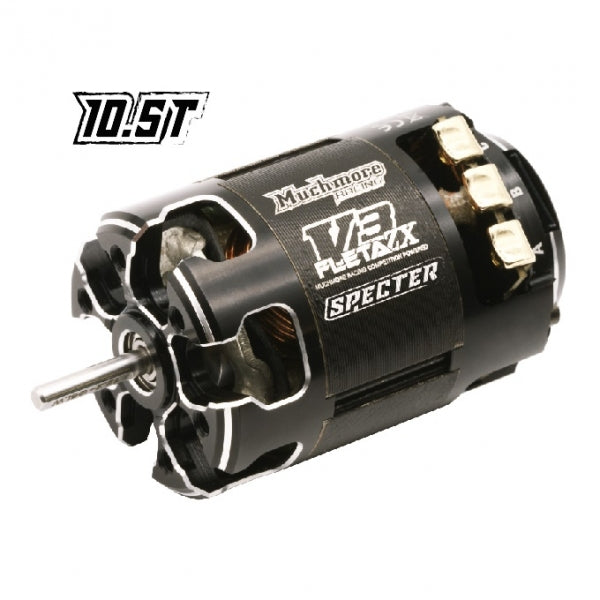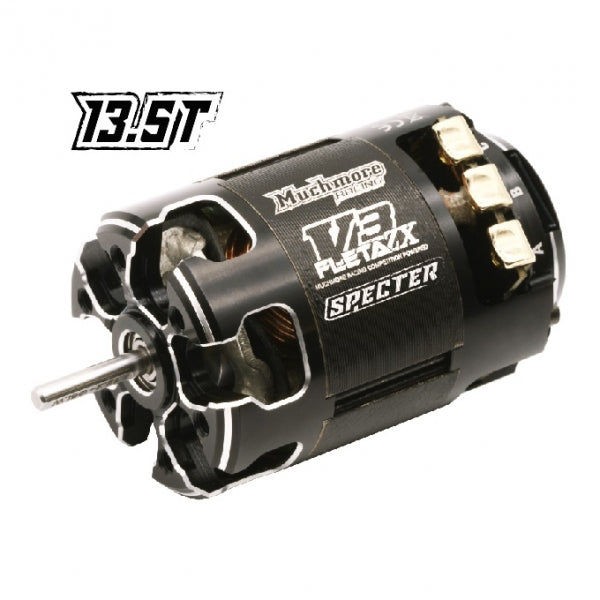 MuchMore Racing FLETA ZX v3 Outlaw Spec Motors
Product Sku:
MR-V3ZX105SPT
Competition against Muchmore Racing's newest outlaw stock motor, the "FLETA ZX V3 Specter".
Muchmore Racing introduces the new "FLETA ZX V3 Specter", the fastest stock motor ever produced.
Technology based on Muchmore Racing R&D team's "Specter" brushless motor series, new design
The 1/10 touring car and off-road driver offers the best feel and maximum power.
High temperature rated wire is used to wind the motor to minimize the risk of motor burnout.
Titanium shaft (reduced weight) standard setup for ultra-fast throttle pick-up.
Maximum RPM and torque of current stock motors in the world.
Not available in ROAR, EFRA
"Specter" takes stock racing to a new level with patented Sintered and Rotor design technology.
It uses a short stack for 35% more power output than a conventional stock motor.
New specially designed Specter stator that reduces the IR value to the limit and maximizes the cooling effect.
Special shell design to expose the stator core
The air is cooled to maximum and the holes in the front and rear end plates are
Excellent heat dissipation of the motor is ensured.
Aluminum Material Sensor Cable connector protector & Dual sensor position
 Aluminum Material Sensor Cable connector protector 
reduces damage of connector.
You can connect the sensor cable to a desired 
position by applying dual sensor position.
Advance timing from 0 – 50 degree's
 Grade 5 ball bearings
Newly designed Gold plated soldering tabs
high power "Z" Magnet with Titanium shafts 

(Weight loss)
[12.3×5.0×24.2Z MR-FZR27TiZ]