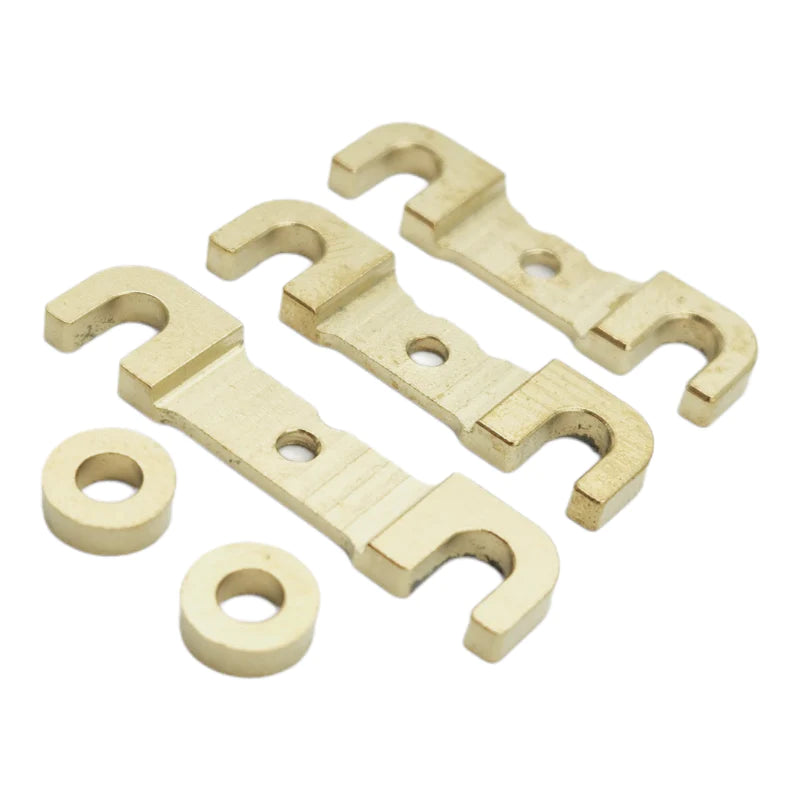 RC MAKER Brass LCG Roll Center Shim Plate Set - Awesomatix A800R
Product Sku:
RCM-A800R-RCSB-1.5
Introducing our all new Brass Roll Centre Shim Plates for all Awesomatix A800R!
Changing roll centres on your Awesomatix has never been easier, rather than undoing the whole screw and having shims flying everywhere, simply loosen the screw, slide the shim plate out, and install the new roll centre shim plate, and re-tighten the screws! 
Available in 1.5mm, 2.0mm, 2.5mm and 3.0mm thicknesses, it gives you a great range of roll centre options to choose from, whilst being able to move weight around your car to adjust the front/rear weight bias. Whilst these may not be a large amount of weight, due to the placement on the car being very far from the centreline, it can have quite a big impact on the handling of your car.
We suggest running them both front, and rear. However if you feel you need more steering, you could replace the front with carbon and leave the rear brass. If you have too much steering and need more rear traction, then you could leave them in the front only, and use carbon in the rear.

These can also be stacked with the carbon 0.5mm and 1mm Shim Plates if desired.
Each pack comes with a pair of front and rear (different lengths) identified by the one (front) or two (rear) indents.
Features:

Easy roll centre adjustment 
4 Different Thicknesses available for different roll centers (1.5,

 

2, 2.5, 3.0)
Adds weight at ends of the car to adjust weight bias
Manufactured from locally sourced half-hard brass in Australia
1.5mm Set adds 4.6g of weight at the lowest point of the car
2.0mm Set adds 4.6g of weight at the lowest point of the car
2.5mm Set adds 4.6g of weight at the lowest point of the car
3.0mm Set adds 4.6g of weight at the lowest point of the car
Includes:
1x Front-Rear Brass Roll Centre Shim Plates
2x Front-Front Brass Roll Centre Shims
2x Rear Brass Roll Centre Shim Plates